---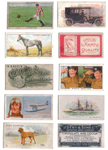 We cater for collectors wishing to add sets to their collection, as well as those who wish to find those elusive oddments to complete a set. Our prices are based on the standard catalogue (Murrays 2014/15, or LCCC 2014 as shown below), and we usually charge up to 2/3 of the catalogue price. Lower grade cards supplied at lower rates if acceptable.
Our strength lies in oddments for Players, Wills, Gallaher, and Ogdens, as one might expect, and they are all sorted and albumed for ease of access at the shop. This way we can deal effectively and promptly with any requests.
Please be aware that we have a very large stock of cigarette cards and are no longer keen to buy mixed accumulations of the standard 1930's issues such as Gallaher Film Stars, Players Garden Flowers, Wills Household Hints - We can sell you these in quantity from £3 per set! We are however keen to buy early cards and proper collections, preferably with catalogue values of £3 per card or more.
We also carry a large stock of Brooke Bond teacards, with prices from 10p per card.
Cards can often be sent on approval,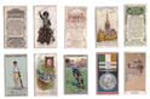 for guaranteed satisfaction .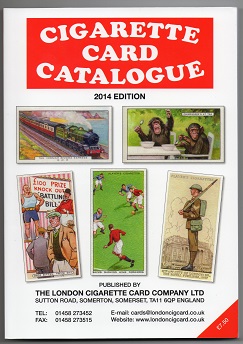 LCCC Cigarette Card Values 2015
Gives prices for cigarette cards - oddments and sets.
£7.50 from shop, £10.50 by post.
LCCC Trade Card Values 2015
Gives prices for Tea cards and other trade cards - odds and sets.
£7.00 from shop, £10.00 by post.
Please email for more info, or send us your wants list!
WE ALSO BUY & SELL OLD POSTCARDS - - PLEASE ASK FOR DETAILS!
We have boxes and boxes of postcards - topographical and by subject, and some as yet unsorted!
You are welcome to browse our stock at our retail Nottingham shop.
We are happy to look at accumulations and collections of postcards - preferably pre 1920 cards.