Below is a short list of the sort of stock we have.
Hopefully in the future we will include specific notes for sale and for ordering online.
( If you're looking to sell, let us know - see our link above "Thinking of Selling?" )
ENGLISH BANKNOTES
A Selection of Treasury notes from 1914 to 1928
Bank of England notes from 1928
Modern notes for the specialist
White notes from £5 to £100 - List now online! - click here.
Provincial Notes
UK BANKNOTES
Scottish Notes - £1 to £100
Irish Notes
Guernsey / Jersey / Isle of Man
WORLD BANKNOTES
Numerous albums and rummage boxes
specific albums for Commonwealth notes
USA album, Chinese album, Russian album
France & Germany album
& more!
Banknote Research:
We are keen researchers into current and obsolete Bank of England notes plus Treasury notes. If you would like to help us in our research please get in touch. We publish a list of current note research detailing scarce and interesting notes recorded, please click the link here.
Guernsey Overprint Banknotes:
During World War II, and the occupation of the Channel Islnads by the Germans, a number of Bank of England one pound notes were overprinted stating 'Withdrawn from Circulation'. This was done to the equivalent value of hastily issued local notes to relieve shortages of small change on the island. A full list of the serial numbers of the notes that survived has been transcribed and so it is now possible to check whether a note is original, as many forged overprints have appeared on the market recently. If you have a note you would like us to check out for you, we are happy to do so. A small charge of £5 will apply (refundable against purchases). We also have a number of genuine overprinted notes available for sale, priced from £195.
Banknote Accessories:
We have a full selection of accessories for the banknote enthusiast, including Lindner Quality albums and pages, or the Britannia range of 3-ring albums in various colours, plus pages to take either one large, 2, or 3 standard notes, or for 6 small notes, as well as individual holders (like postcard sleeves). Prices available on request.
Recommended Banknote Catalogues from stock:
English Paper Money NEW 8th edition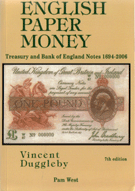 in stock now price £25.00
Banknote Yearbook (hardback) Latest Edition - £29.95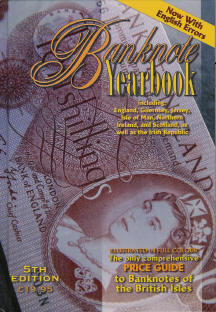 - special price on request - £26.95
Pick World Notes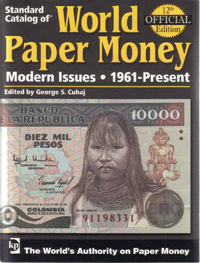 in 3 volumes
... all current volumes in stock now!
Other books on banknote collecting are available, such as Roger Outing's book on 'The Provincial Banks and Banknotes of England and Wales', and a few out of print titles such as 'Promises To Pay', the definite guide to the Bank of England's note issues. For more information please ring or make a visit to our shop. We are happy to help new and advanced collectors.
Mark Ray of Collectors World Nottingham is a well-known collector and dealer in Banknotes. He is a contributor to the standard catalogue of English Paper Money, and an active member of the IBNS (International Banknote Society). Collectors World is always happy to help, so get in touch now!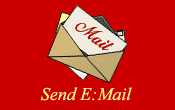 or ring us on 0115 928 0347 during shop hours