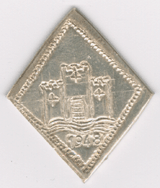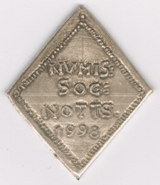 President: Mr. Alan W. Judd
Recent Past Presidents: Alan Cope, Graham White
Secretary: Mark T. Ray
This medallion was struck to commemorate the golden jubilee of the society. Based on a civil war siege piece of Newark, Nottinghamshire, it was struck from hand-engraved dies by Dave Greenhalgh (a.k.a. Grunal the moneyer) in 0.950 silver and was limited to 50 examples.
Meetings are normally held each month in Beeston, Nottingham, with our year starting in September. We meet monthly from September through to April, and have a society dinner in May. The AGM is held in July, therefore there are no meetings in June and August. The annual subscription is a mere £5.00 per person.
Meetings start at 6.45pm. Visitors are welcome.
PLEASE DOUBLE CHECK VENUES AND DATES BEFORE EACH MEETING.



NUMISMATIC SOCIETY OF NOTTINGHAMSHIRE
(Registered Charity No. 512243)
AFFILIATED TO THE BRITISH ASSOCIATION OF NUMISMATIC SOCIETIES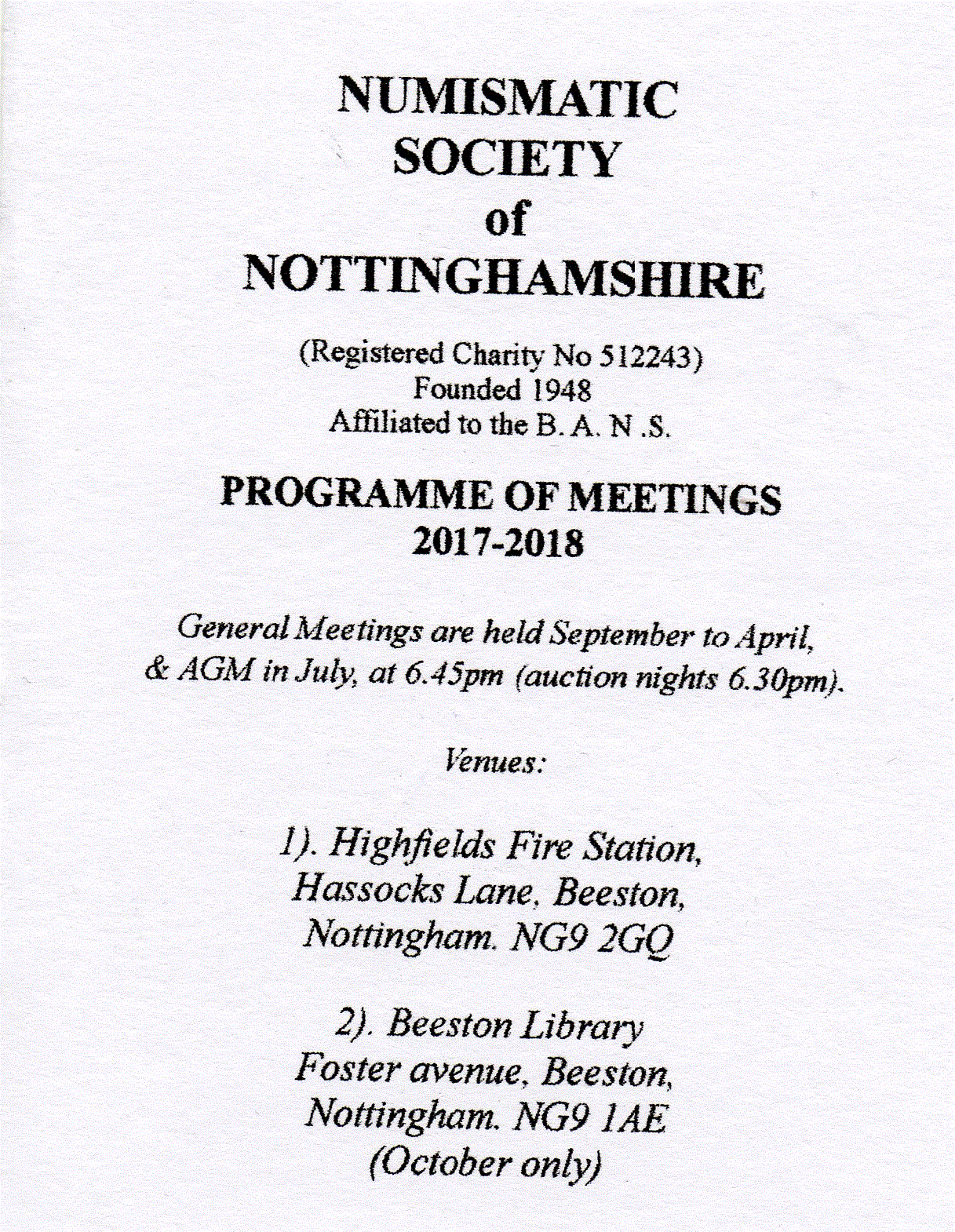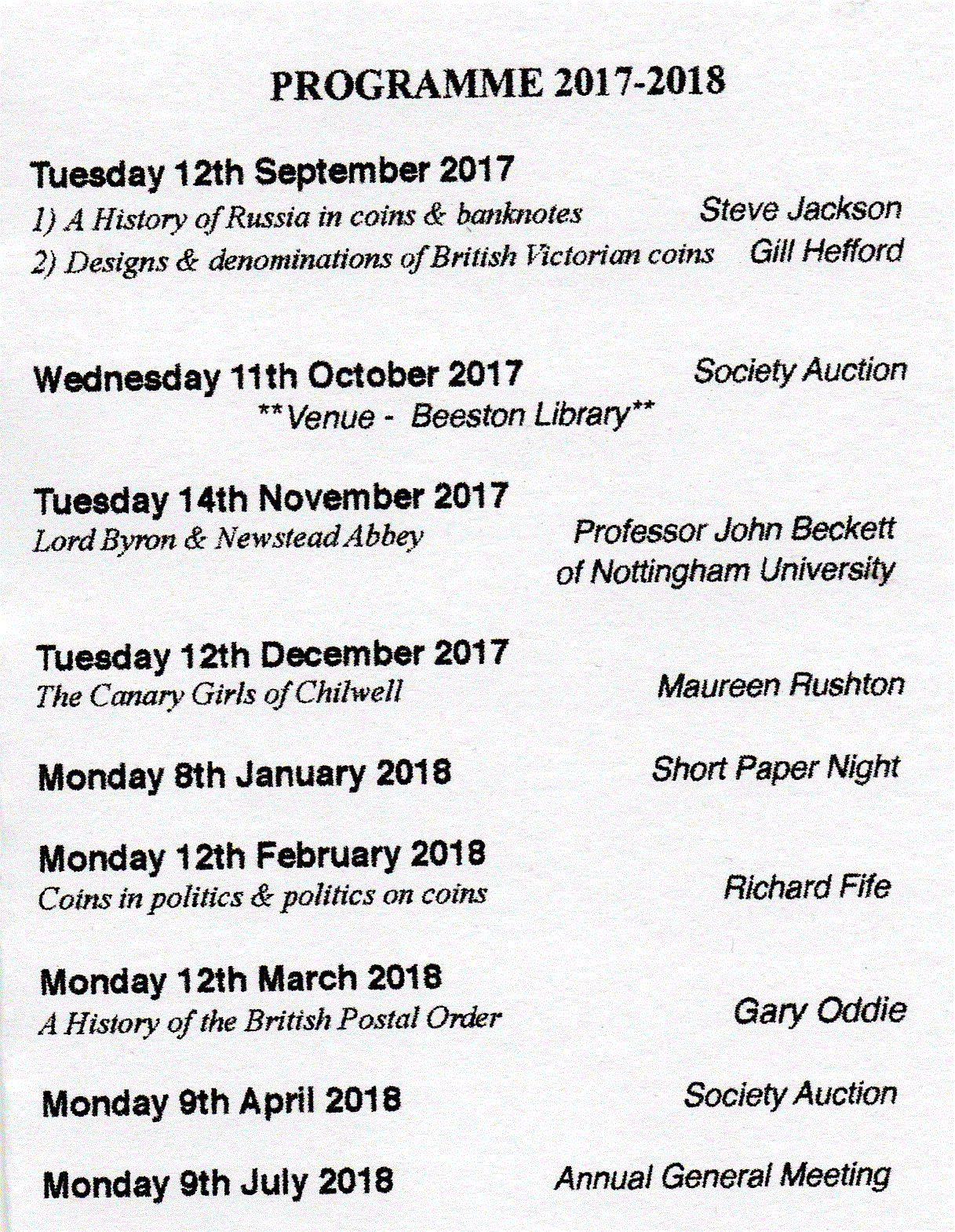 Programme for the 2016-2017 Season was as follows.
Tuesday 12th July 2016 AGM. In the Learning Studio, Arts Centre
Tuesday 13th Sep 2016 "Coin Finds & History" Dr Martin Allen (6.30 Start). This lecture is
held in memory of our much respected Past President (twice) and later Honorary Member Keith Russell. A mild mannered, dedicated man whom we all remember with affection. Keith passed away on the 16th September 2006 and is much missed.
Tuesday 11th October 2016 Auction. Venue to be announced.
Tuesday 8th Nov 2016 "On the Buses" by Dr Peter Hammond. Development of Nottingham's
Transport System. Please bring any Nottingham bus tokens you may have.
Tuesday 13th Dec 2016 "Funny Numbers on Coins" by Richard Fife.
Tuesday 10th Jan 2017 "Ten Tokens that changed the World" by Andrew Wager
Tuesday 14th Feb 2017 Short Papers Night, Offers of talks invited.
Tuesday 14th March 2017 "The French Revolution" by Chris Leather
Tuesday 11th April 2017 Auction. Venue to be announced.
Tuesday 11th July 2017 Annual General Meeting. In the Learning Studio, Arts Centre.
Previous Programmes of the Numismatic Society of Nottinghamshire.
PROGRAMME FOR THE 2015-2016 SEASON was as follows:
Tuesday 11th August 2015 A Paranumismatic Tour of Nottingham (Special Event), host Alan Cope - details of time and venue on request.

Tuesday 8th September 2015. "Knighted for Services to Numismatics"
by Peter Preston-Morley, Secretary of the British Numismatic Society.
Tuesday 13th October 2015. Members' Night at Beeston Library, Foster Avnue 6pm.
Tuesday 10th November 2015. "The Discovery of the Dovedale Hoard," by Rachael Hall NT Archaeologist .
Tuesday 8th December 2015 "The Archaeology of the Tram Route," by Dr Gareth Davies.
Tuesday 12th January 2016 "An evening of short papers." Offers of talks invited.
Tuesday 9th February 2016 "Coins in the University Museum," by Anja Rhode.
Tuesday 8th March 2016 "500 years of counterfeits," by Gary Oddie.
Tuesday 12th April 2016 Members' Night at Beeston Library, Foster Avnue 6pm .
Tuesday 10th May 2016 Society Dinner at the "Priory"
Tuesday 12th July 2016 AGM. In the Learning Studio, Arts Centre
Programme for the 2014-2015 Season was as follows.
Monday 8th Sept 2014. "Occupation 1914-1945" by Murray Shaw.
Monday 13th October 2014." Members' Night"
Tuesday 11th November 2014. "The Tyche of Berytus, a Phoenician Goddess on Civic Coinage"
by Dr Andreas Kropp of Nottingham University.
Tuesday 9th December 2014 "The Anglo Saxon & Norman Mints of Nottingham &
Derby" by Andrew Knighton B.Sc.Hons.

Tuesday 13th January 2015 "King's Side or Princes Side?" by Alan Judd MA Hons..
Tuesday 10th February 2015 An evening of short papers by members.
Tuesday 10th March 2015 "Richard III & the Finding of his Remains" by Peter Liddle.
Tuesday 14th April 2015 Members' Night.
Tuesday 14th July 2015 AGM
The Numismatic Society of Nottingham always welcomes visitors and new members.