We now have a small eBay online presence - our eBay trading name is coll-world. Please add us to your eBay favourites and watch out for the regular bargains!
As a retail shop offering a full service to collectors and those looking to sell, there are few other provincial shops to compare with us. With our out-of-town location we are able to keep our overheads low, and our customer service second to none! For Coins - ancient to modern, Banknotes - English and Foreign, Investment gold & silver, Medals, Tokens and Medallions, Cigarette cards and Postcards, Books and Accessories... Think of Collectors World, Nottingham. What more could you want from a collectors shop??
Having a retail shop means we do not have the time or resources to offer all our stock online, however we do sell to many trade people who do sell online. If you are a dealer who has not previously dealt with us then perhaps it would advantageous for you to get in touch. If our trade customers keep coming back, our prices can't be that bad!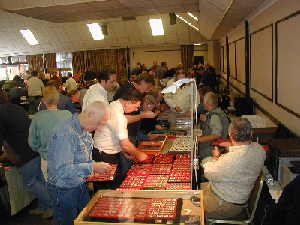 As well as running our retail shop, we were regular exhibitors at specialist fairs around the country over the last 30 years, and can be found most months at the Birmingham Coin and Banknote Show at the Motor Cycle Museum by the NEC. If you would like details of any of the shows mentioned please ask. We also can occasionally be found at fairs in London and York, and have attended numerous international fairs.
Mark Ray of Collectors World Nottingham is a well-known collector and dealer in Coins and Banknotes. He is a contributor to the standard catalogues on English banknotes such as English Paper Money by Vincent Duggleby, and Banknote Yearbook by Token Publishing, and an active member of the IBNS (International Banknote Society). For nearly 30 years Mark has been an keen member of the Numismatic Society of Nottinghamshire, and has served as its president. Collectors World has the expertise, the knowledge, and the desire to help, so get in touch now!
(N.B. It would be super to have all our stock available for you to view online, but this is simply not possible, so if you know what you are looking for send us a wants list, on ring us on 0115 928 0347)
A selection of customers comments are shown below - we are proud of our reputation and keen to maintain our customer satisfaction record. Have confidence in Collectors World for old-fashioned service and reliability!
Customer Comments...
Customer Satisfaction is important to us, and feedback is always appreciated. Here are a few from letters and emails received recently.
Medal Mounting...
I must thank you for the excellent service that I received from you in the matter of mounting replacement Second World War medals for my father. You were helpful, friendly, courteous and, of course, efficient; I could not have asked for better service. Not surprisingly, my father is really pleased with the result! Thank you again. - C.H.
Charity currency encashment...
Thank you for the speedy service and the cheque which arrived safely
today. Marie, Diocesan Manager, CAFOD Nottingham
Dear Mr Ray
One of our volunteers has recently donated over £300 to our charity, raised by the sale of foreign currency. He has told us that you gave him a very good price for the bank notes and we are very grateful to you for your help. The money donated is used for the direct benefit of our patients and their families being cared for in our hospice. Thank you so much. Maureen T.
Arthur Rank Hospice Fundraising Dept. Arthur Rank Hospice Charity
Coins...
Just a quick note to say thanks for the Mansfield token, I have not seen one before, so it was good to add it to my collection. G.O.
Hi Mark, many thanks for your quick response to my e-mail. Your offer sounds very fair, so I would like to accept. C.M.
Banknotes...
Hi Mark, Was really pleased with the £10 Leeds note I had from you a few weeks back. A really great addition to my collection! Thank you! J.B.

Hi, Just a note to say that the banknotes arrived safely this morning. I have just been through them and am very happy. A.B. Bristol,
The Shop...
...At the end of May, I did a talk on Applegath & Cowper to the Nottingham branch of the IBNS. I popped into Mark Ray's unique shop – full of interesting material, a mecca for any visitor to Nottingham – a detour to Nottingham would also be worthwhile... Pam West, britishnotes.co.uk, website blog.
."Its my favourite shop in the whole world!" A.B. Nottm