New Issues in stock: click here
For Investment Gold - Sovereigns, Krugerrands etc: visit our gold page.
( If you are looking to sell, let us know - see our link above "Thinking of Selling?" )
A basic guide to our shop coin stock:
ENGLISH COINS
Albums by denomination and date (Farthings to Crowns)
Trays of better milled coins from Charles II to Elizabeth II
Album of quality modern (mainly 20thCentury uncirculated)
Well stocked Decimal Albums -
(including full range of commemoratives £2 coins, £5 coins, & Olympic 50 pences)
Royal Mint Year Sets - Uncirculated and Proof at sensible prices.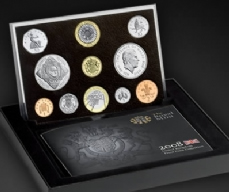 New Issues and earlier issues click here
Our eBay site is called coll-world and has a selection of items for sale, check it out...!
Gold Coins
Collectors World keeps a small stock of Gold Coins for collecting or investment purposes. For more details check out our gold page. For the collector this includes sovereigns, half sovereigns, guineas, and occasionally foreign gold coins. For current Royal Mint gold coins click the link above. For the investor we can often obtain sovereigns and Krugerrands, however a quantitiy of these would not normally be available from the shop without prior arrangement. Gold has been an excellent investment in recent years, and is expected to remain so for some time. This has led to high demand and low supply as those with exisiting gold coins are still expecting their investment to do well and so are not keen to sell at present, while new customers are looking for alternative investments opportunities. Collectors World is also a stockist of sovereigns at a minimal premium to their intrinsic value in partnership with London Coins - www.londoncoins.co.uk - who provide an investment service with authenticated encapsulated and graded gold coins.
Medieval & Ancient Coins

Our trays of HAMMERED COINS contain a selection from Anglo-saxon pennies through Edward groats Elizabethan shillings, and Charles 1st halfcrowns, to suit all pockets. We have ROMAN COINS in silver and bronze with prices starting at the "2 for a fiver" tray!
Foreign Coins
FOREIGN COINS - We have them by the ton! From rummage trays at 50 pence, to QUALITY FOREIGN at sensible prices. From the USA we have a nice stock of Morgan Dollars and silver Eagles, plus the occasional gold Double Eagle to tempt you.
Accessories for your collection:
We have a full selection of accessories for the coin collector, including the Britannia range of 3-ring albums in various colours, plus pages to take either 63 small coins (to 1/-), 30 larger coins (to 2/6), or 20-pocket pages to take crowns. This size is also useful for taking 2"x2" coin envelopes or the Britannia coin holders. Prices and help available on request!
We also stock the Lindner trays in varying sizes, plus carrying cases for coins, and often we have a small number of second-hand or as-new coin cabinets in stock for housing your more treasured collections.
Books from stock:
Collectors World tries hard to stock a good range of books for the coin collector.
Coins of England by Spink.
The best priced catalogue, now in two parts: £30.00
Coin Year Book

Excellent value at £9.95.
Other priced Coin guides are available, including some earlier years catalogues at discount prices!
For the specialist collector we have the standard Roman, Greek, and Byzantine Books, plus a number of other titles.
Collectors of world coins will be pleased to find we have a wide range of Krause catalogues including useful second-hand copies - just ask for full details.
We stock the full range of World Coin Catalogues: from 21st Century issues back to 1601. Each century has a seperate book, and cost between £32 and £65 each - but the wealth of information in each is invaluable!
Krause World Coins 20th Century, 2018 Edition.

in stock now!
It would be super to have all our stock available for you to view online, but this is simply not possible, so if you know what you are looking for send us a wants list. We are always keen to help.