---
( If you are looking to sell, let us know :-
see our link above "Thinking of Selling?" )
Original Medals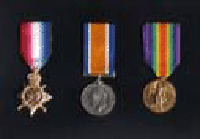 and Groups:
We have an ever increasing selection of original medals available to view at the shop. We have mostly First and Second World War medals, plus some from earlier compaigns, some recent awards, and a small selection of medal groups.
We are always keen to buy medals - let us know what you have, or ring to discuss during shop open hours.
Replacement Medals: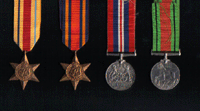 Replacement Medals:
We carry a stock of most standard medals (WWI & WWII) as copies, for sale as replacements. Our aim is to supply you with any standard replacement medal you request, at a fair price and reasonably quickly.
Medal Ribbon: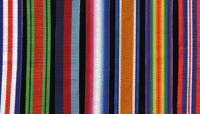 Medal Ribbon:
We stock a wide variety of standard medal ribbon - the ones most frequently requested, and a surprisingly large selection of earlier ribbons!
A 6" length of standard ribbon costs £3.00 including postage.
We can usually obtain non-standard ribbon within a few days.
We also stock bars for medal mounting. Details on request.
We welcome your enquiries on 0115-928-0347, or email us, or visit us -we are at your service!
Remember: Collectors World is open Tuesday through to Saturday from 10am to 4pm.
Books and Medal Accessories:
We have a full selection of accessories for the medal collector, including the Britannia range of 3-ring albums in various colours, plus 6-pocket pages designed especially for medals, as well as individual medal envelopes. Prices available on request.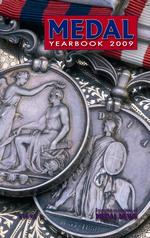 Medal Yearbook current edition in stock now!
Simply e-mail us the details of your requirements, for availability and price.
Collectors World is happy to help with your medal enquiries, however if you require something more unusual in the medal line - such as foreign medals, unofficial medals, cap badges, or have specific questions relating to service issues, do check out www.servicecomm.co.uk who we are happy to recommend, and who would be happy to assist.